Mission Realty Builds Relationships and Community
Special Outreach Events
OUTREACH AND EVENTS
Mission Realty was out and about throughout the community this fall! Having a presence at Franklin Lakes Day, Hawthorne Day and North Haledon day, agents not only shared information about their business, but also raised money for great causes. Agents handed out snacks and asked for donations in return which were then MATCHED by Mission Realty and presented to each town's Fire Department and Ambulance Corps. Giving back and supporting our local community is Mission's "mission!"
Mission Kids Success is a 501c(3) assisting families and children with autism, ADHD, and associated neurodevelopmental conditions their full potential! Join us at Superdome Sports in Waldwick on Sunday, October 13 from 2-5p, for a great day of healthy, family fun! Check out www.missionkidsuccess.org for more information!
Join us at the Fair Lawn Senior Center on October 10 to learn about opera great, Enrico Caruso! Sponsored by Mission Realty.
Mission Realty Company presented a check to the Wyckoff Fire Department recently. The company supported the community's First Responders at Wyckoff Day by collecting $175 in donations and then matching the amount; resulting in a $350 gift to the Wyckoff Fire Department and Wyckoff Ambulance Corps.
Pictured from left to right:  Capt. Scott Amantea, Bn. Chief Matt Tani, Asst. Chief Joe VanderPlaat, Chief Tim Brock, John Fasitta, Ron Pruiksma, Bn. Chief Chris Joachin, Kate Fair, Amy Werner, Patti Pasquino.
Attention Opera Lovers--Don't miss this unique experience!
Mission Realty Company leveraged their "real estate" at the Y's 10th Annual Wyckoff Day to support the community of Wyckoff. Their initiative to collect donations for First Responders amounted to a total of $165 from event attendees. The amount was then matched by Mission Realty; bringing the total donation to $330. The funds will be donated to the Wyckoff Fire Department and Ambulance Corps.
Pictured from left to right: Kate Fair, Ron Pruiksma, and Patti Pasquino.  
When Ron Pruiksma, decided to sponsor a competition for his agents, he never expected it would afford the opportunity to shed a little light on a local non-profit organization. Coming up on their one-year anniversary in the real estate marketplace, Ron and his partner Amy Werner were discussing the number of leads they had, and how they should go about converting them to sales. Then, someone proposed the idea of a friendly competition. Since the agency is home to four male realtors and four female realtors, a fun, "battle of the sexes" contest was formulated.
A one-thousand-dollar cash prize was on the line for the winners to spend as they wished, and that meant, "Game On!" After 4 weeks' worth of competitive grit, the ladies took the prize. A spa day, Broadway show, or evening on the town with a limo were some of the suggestions offered by Pruiksma. "Our agents work extremely hard on behalf of our clients, and I wanted to show my appreciation to them for all of they do on behalf of the company," stated Ron. "However, in the spirit of Mission's philanthropic outreach, the agents came up with an alternate plan." Amy added, "Our group realized that we could use this opportunity to serve a larger purpose by taking the award and paying it forward. Inspired by the culture of our company, we unanimously decided to support Lighthouse Pregnancy Resource Center, an organization which helps women, men, and teens facing unplanned pregnancies."
Executive Director Debbie Provencher explains, "Lighthouse is so grateful for this generous gift from the women of Mission Realty. As mothers themselves, they appreciate what it takes to care for a newborn, as well as the challenges to overcome if a parent is alone or under-resourced. I was so inspired to learn that these moms used their prize money, not to pamper themselves, but to meet the specific needs of our Lighthouse moms – practical items like a toddler car seat and a snowsuit to keep their children safe and warm! Their kind gesture truly demonstrated the spirit of Christmas and their company's commitment to the community. The services Lighthouse offers are available free of charge because of generous individuals like these women and businesses like Mission Realty." "The concept of giving back goes along with all of our beliefs," stated Kate Fair, Mission Realty agent. "It is a pleasure to work alongside these women with the common intentions of helping our community and changing the course of peoples' lives for the better." Lighthouse Pregnancy Resource Center has locations in Paterson, Wayne, and Hackensack. For more information on Lighthouse PRC, visit www.lighthouseprc.org or find out how you can volunteer at www.friendsoflighthouseprc.org Photo: L to R Patti Pasquino, Kate Fair, Debbie Provencher, Executive Director of Lighthouse PRC; Amy Werner, and Caitlin Piccirillo.
We took some "tricky" weather and turned it into a "treat" for kids at Paterson's Oasis. Mission Realty had it all planned...a Halloween event for kids in Wyckoff complete with lots of healthy, allergy-free snacks. However, the day's weather had other ideas, and the event was canceled due to a Nor'easter's downpour. Kris Pepper, of Finish-Line Marketing, (pictured) made some quick calls and was able to get the snacks into the hands of kids at an food allergy support group at RWJBarnabas Hospital in Livingston, as well as Paterson's Oasis, a Haven for Women and Children. Our Mission is to let no snack ever go to waste!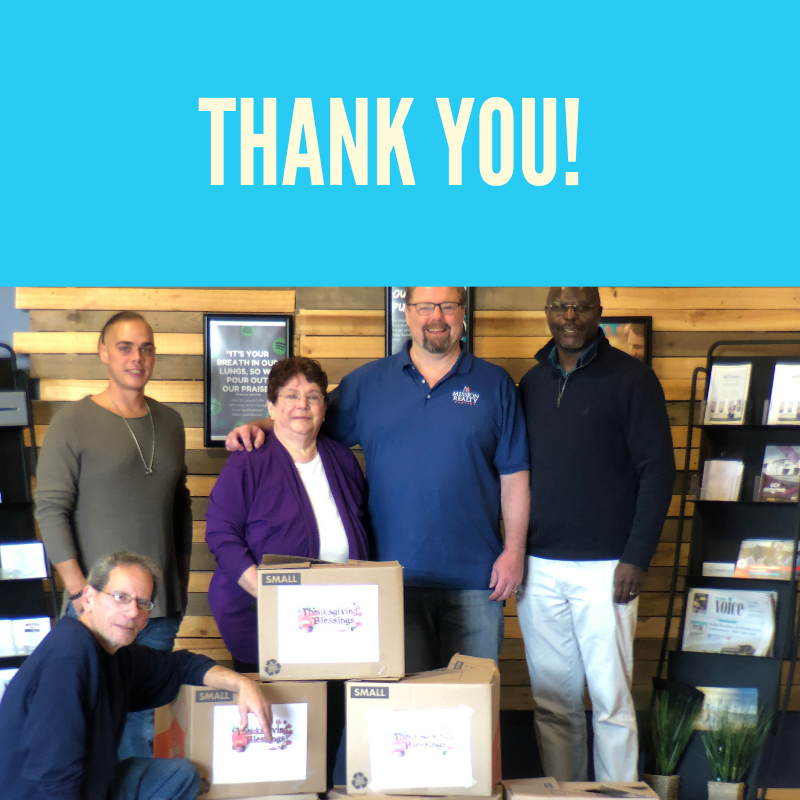 We are so grateful for Ron Pruiksma and our friends at Mission Realty for graciously filling 9 Boxes of Love for our Thanksgiving Food Drive! It is so amazing to see all that God is doing in our community through this powerful outreach!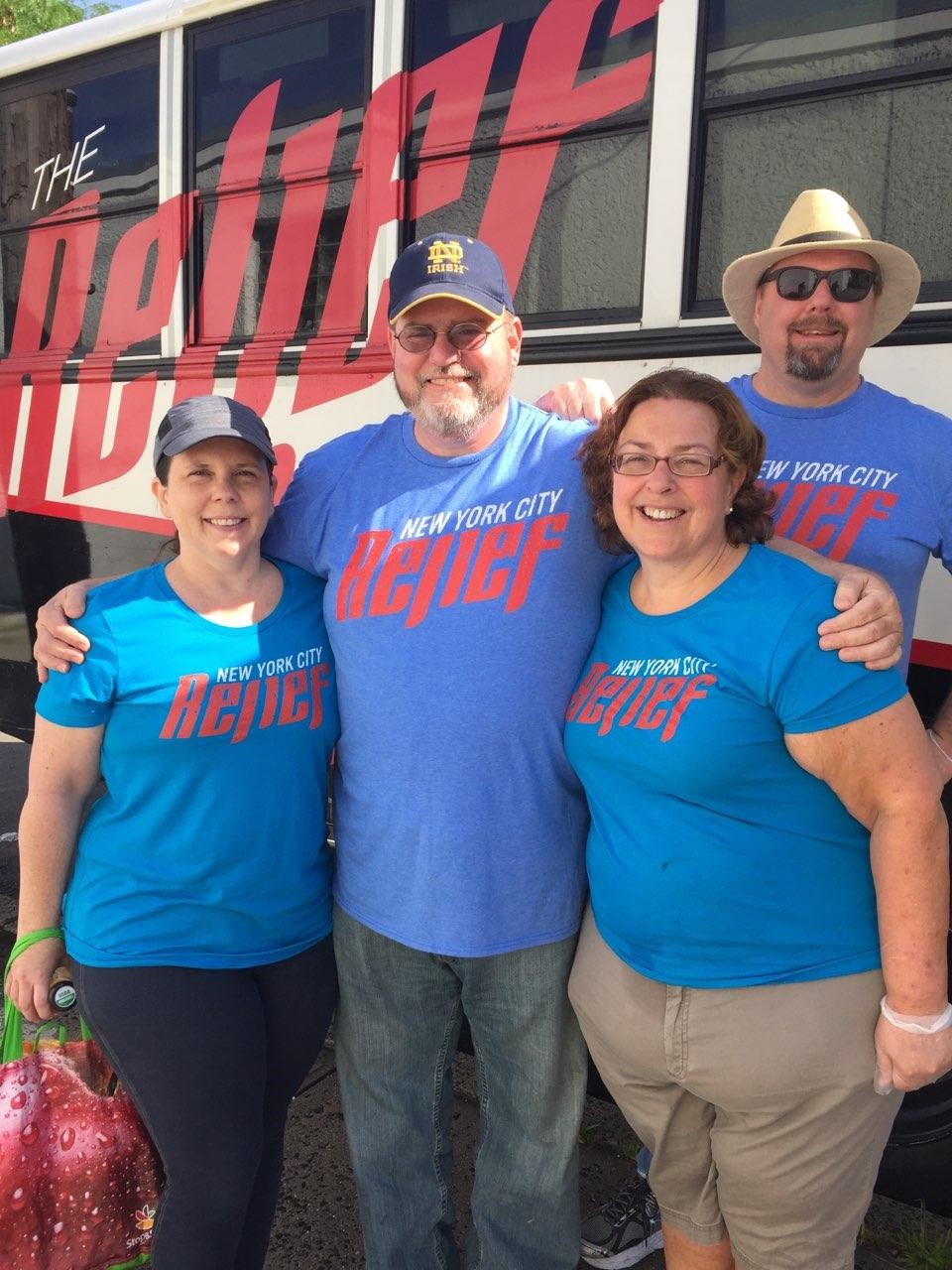 Mission Realty Company of Wyckoff recently volunteered with the NYC Relief Bus in serving the underserved in NYC.  Pictured (L to R): Patti Pasquino, George Cavallone, Kate Fair, Ron Pruiksma. 
Founded in 1989, New York City Relief has mobilized thousands of volunteers to serve those struggling with homelessness by providing hope and resources that lead to life transformation.  Mission Realty Company is built upon a passion for serving clients and the community.  For more information click on www.newyorkcityrelief.org or www.myrealestatemission.com.